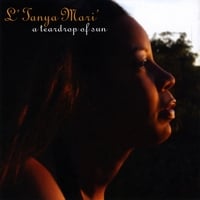 Album Name: A Teardrop of Sun
Artist: L'Tanya Mari'
Year/Label: 2009 / Independent


[Buy at Amazon] note: this is expensive here, I suggest using CDBaby
Review by Amy Lotsberg Producer of Collected Sounds
Starts with pretty jazzy piano. She has a nice voice. I thought one time this was Margot Reymundo and I really like her, so that's good. L'Tanya has a really pretty voice. It's kind of sophisticated jazz with tinkly piano. These are not her original compositions, but they're quite nice.
Star Eyes really lets her vocal ability shine. It's lovely.
There is some fun scatting on This is Now.
Crystal Silence is beautiful. It makes me want to dance. In a ball gown.
She does That Old Black Magic which is a favorite of mine. The original is on many of my party mixes (yes my parties are more like cocktail hour than dance club extravaganzas). But her version is really different and so far I'm not sure I'm behind it. Maybe more listens are in order.
While she didn't write these particular songs, she is a musician; she plays cello and piano and actually took up voice later on.
This record is good for those martini drinking, fancy dress wearing nights. You know… those nights.
Track Listing
1 Very Early
2 Nothing Will Be As It Was
3 I Gotta Right to Sing the Blues
4 Star Eyes
5 This Is New
6 The More I See You
7 Cyrstal Silence
8 That Old Black Magic
9 You Go to My Head