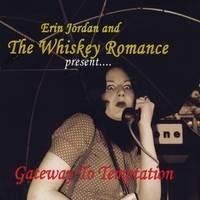 Album Name: Gateway to Temptation
Artist: Erin Jordan and the Whiskey Romance
Year/Label: 2008 / Independent

Review by Anna Maria Stjärnell
The vaguely retro strains of Erin Jordan and her band has a very special sound. Jordan comes across as a sibling to Erin McKeown and Jolie Holland and her band match her well.
Jane is an up-tempo impish song with a neat jazzy backing. Jordan's sweet vocal is a joy to hear.
Unemployed on Monday humorously deals with a very real problem, as Jordan sings of the comforts of love. The band expertly plays the backing.
Porque no me amas is a rare detour into Spanish, that works, Jordan delivering her vocal against a soft backing.
Amphibian is a nicely ambitious, cinematic song with amusingly surreal lyrics. Jordan sounds as ever, more chipper than decadent despite words of squalid bars.
She still carries her songs well, and that makes for a lively, engaging album.
Track Listing
1 Black Widows
2 Jane
3 Intoxication
4 Unemployed on Monday
5 Sleepy Town
6 Unrequited
7 Porque Tu No Me Amas
8 Circus Song
9 Amphibian
10 Corpus Christi
[Erin Jordan and the Whiskey Romance Official Site]
[wp_campaign_1]