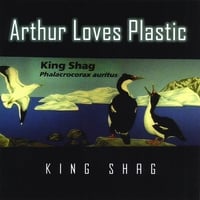 Album Name: King Shag
Artist: Arthur Loves Plastic
Year/Label: 2008 / Machine Heart Music


[Buy at Amazon]
Review by Anna Maria Stjärnell
I've reviewed Bev Stanton's electronica project Arthur Loves Plastic many times in the past, and yet again she doesn't disappoint me. The new effort is dance music, but atmospheric enough to listen to at home.
Call Me is nicely chilled, the beats lazily unfurling as it goes along.
Yeah Baby (very Austin Powers-like title that) is more dancefloor friendly, in a minimal thumping kind of a way.
Mr Shy is pleasingly sweet, even as it seems headed for sound tracking some scary movie. It's just the right side of eerie, with bleating beats and disembodied voices in the dark.
Miss You has a seductive sweep, and snippets of a female voice intoning "I'm gonna miss you forever". It also seems ready made for a movie soundtrack.
As ever, Stanton makes electronic music for the feet and the heart.
Track Listing
1 You Take My Love
2 Call Me
3 She Says It's True
4 Yeah Baby
5 Hey
6 Mr. Shy
7 Flight
8 Bring in the Night
9 Miss You
10 Forever
11 You Make My Pussy Purr
12 Falling
[Arthur Loves Plastic Official Site]
[wp_campaign_1]