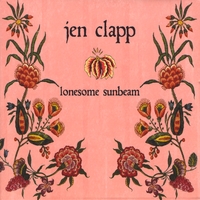 Album Name: Lonesome Sunbeam
Artist: Jen Clapp
Year/Label: 2009 / Independent


[Buy at Amazon]
Review by Amy Lotsberg Producer of Collected Sounds
Jen Clapp has release an album filled with pretty pop/folk music.
Her style is not unlike Dar Williams, and other folkies like her especially on Believe in Me, which really reminds me of Dar.
She's got a bit of a twang too, most noticeable on Might Have Moved On and the title track Lonesome Sunbeam.
The melodies are easy and comfortable as is Jen's voice.
Icy Windows is a standout. I have noticed it several times. It's got a nice haunting quality. I'd say it's probably my favorite song here.
Voodoo Baby is a fun poppy number with a catchy chorus.
It's a lovely record that fans of the genre will no doubt appreciate.
Track Listing
1 On Seven Stones
2 Lonesome Sunbeam
3 Photograph
4 Last Ride
5 Tenderheart
6 Icy Windows
7 Up In Smoke
8 Might Have Moved On
9 Voodoo Baby
10 Believe in Me
[wp_campaign_1]