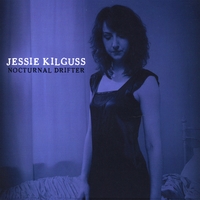 Album Name: Nocturnal Drifter
Artist: Jessie Kilguss
Year/Label: 2009 / Independent


[Buy at Amazon]
Review by Anna Maria Stjärnell
Actress Jessie Kilguss decided to embark on a musical career and came up trumps with her debut album Exotic Bird a year ago. Her follow-up is s stunning affair with luminous vocals.
Opener Gristmill is done in a cabaret-style that suits Kilguss world-weary vocals.
A Little Place Behind My Eyes turns electronic, with a pulsating beat and a plain catchy chorus. It sounds far too classy to be a calculated move towards the mainstream though.
I Don't Need People is seemingly cynical, but has a sad-eyed weariness that's becoming. Kilguss becomes a true torch singer for these troubled times.
My heart is in your hands, your hands are shaking
…she intones.
31 looks at getting older and does so wistfully and elegantly. Kilguss has a deft touch with the theme. Here she reminds me of Sylvie Lewis.
Her very real talent should guide her from now on. She's gone from a highly promising artist to a real presence on the indie scene.
Track Listing
1 Gristmill
2 Americana
3 A Little Place Behind My Eyes
4 Time On My Hands
5 I Don't Need People
6 This Time
7 31
8 Marie Antoinette Song
9 Something About Lonely
10 Strangers On a Train
[Jessie Kilguss Official Site]
[wp_campaign_1]