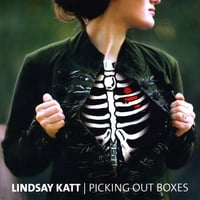 Album Name: Picking Out Boxes
Artist: Lindsay Katt
Year/Label: 2009 / Independent


[Buy at Amazon]
Review by Amy Lotsberg Producer of Collected Sounds
I'm gonna cut to the chase, I'm not feeling wordy today so: I really like this record. Several times while on shuffle I've done the "Who's this? She's really cool!" and it's Lindsay Katt.
On My Happy she does the jamming-a-lot-of-words-into-short-phrases thing but it works.
Pretty in a Paper Bag is really nice, cool melody, nice rhythm.
There's a nice mix of furious (as in fast, not mad) piano and percussive energy (Out & About). It's not just piano though, this is full band from what I can tell.
Promises is really nice. It reminds me of Ellery.
Wretched Unbelievers is radio friendly. Poppy catchy. This song has crept it's way into my brain many times.
This is really well produced and sounds very professional.
Track Listing
1. My Happy
2. Out & About
3. Is it You
4. Wretched Unbeliever
5. Fairly
6. Heart Place
7. Andie Anne
8. Pretty in a Paper Bag
9. Conquest
10. Two Little Birds
11. Promises
12. Yellow Tail