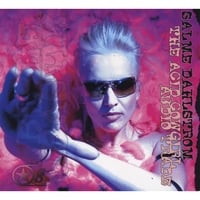 Album Name: The Acid Cowgirl Audio Trade
Artist: Salme Dahlstrom
Year/Label: 2008 / Kontainer Music

Review by Anna Maria Stjärnell
Salme Dahlstrom decided to go it alone after being disappointed by major labels. Her bright, poppy sound makes it seem odd that they couldn't find a niche for her.
Superstar Car Crash could easily be on the radio next to hits by Gwen Stefani and Katy Perry.
Dahlstrom has her own edge, which makes it a good song.
C'mon Y'all takes over and is instantly likeable.
Reality Check is an up tempo, tough tune with a roaring chorus.
Wearing the peace is softer, Dahlstrom singing in a relaxed fashion about love.
Dahlstrom should soon be noted by the general pop audience.
Track Listing
1. Intro
2. Superstar car crash
3. C'mon Y'all
4. GLS
5. Hello California
6. Reality Check
7. Thnking about it..baby
8. Wearing the peace
9. Little helper
10. Popwreck
[Salme Dahlstrom Official Site]
[wp_campaign_1]