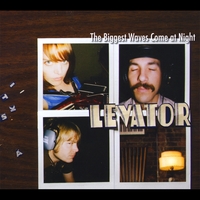 Album Name: The Biggest Waves Come At Night
Artist: Levator
Year/Label: 2009 / Levator Music

Review by Anna Maria Stjärnell
Levator is fronted by singer/multi-instrumentalist Sky Lynn complimented by Rando Skrasek and Nate Henry.
This is their third album of dreamy yet distorted music.
12:34 sounds like P.J Harvey fronting Morphine, all saxophone and waling vocals. The band captures a late night mood here.
Bruises is shoegaze gone jazz as waves of sound wash over Nate Henry's sax and Lynn's angelic singing.
Dark Hair is ghostly and fluid, Lynn's gorgeous vocals supported by a lovely melody.
Mocking Bird edges into harder territory, and must be a live favorite. The squall of noise is woven into the bands dynamic sound well.
This album is just wondrous.
Track Listing
1 12:34
2 Red Room
3 Bruises
4 Dark Hair
5 Intro To
6 Eyes
7 Mocking Bird
8 Trampoline
[wp_campaign_1]