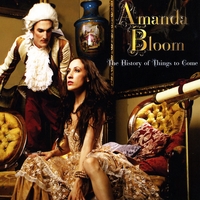 Album Name: The History of Things to Come
Artist: Amanda Bloom
Year/Label: 2008 / Independent


[Download at Amazon]
Review by Anna Maria Stjärnell
Amanda Bloom's debut album is an ambitious tour de force for the singer/pianist. She's not afraid to use big gestures and more often than not it works.
The stunning opener Rosetta is Evanescence if they were brought up on Tori Amos gone baroque.
Fallacy is a sharp song; Bloom singing beautifully to a discordant piano backing. She's more than lived up to her grand ambitions.
The title song is another fine track, Bloom's vocal neatly framing a lovely melody. The music reflects the truly gorgeous cover art, yet another reason I prefer cds to downloads. Oh well, must be getting old.
Lead me Lightly is beautifully played, Bloom giving it one of her best vocals. Her debut is an impressive achievement.
Track Listing
1 Rosetta
2 Magdalene
3 Fallacy
4 It Must be the Living
5 The History of Things to Come
6 Beautiful Beautiful
7 My Heart, My Master
8 Leave Me Lightly
9 The Truth in the Sky
10 The History of Things to Come (instrumental)
[wp_campaign_1]