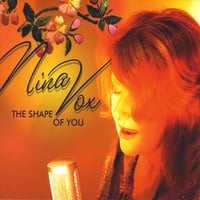 Album Name: The Shape of You
Artist: Nina Vox
Year/Label: 2008 / Independent

Review by Anna Maria Stjärnell
Nina Vox records others' songs but with her own flavour on this debut album.
Some songs are by her collaborator Tony king, but most are classics of some kind.
The stylish title song by King, opens the album nicely with a soft beat and a gentle bossa rhythm.
Tom Waits' A Little Drop of Poison gets a nicely cabaret-ish reading with Vox emoting vixenishly.
Don McLean's Vincent about van Gogh, is rendered beautifully and with a clear jazz flavor. Vox's sweet vocals are just right for this song.
Cohen's Dance Me to the End of Love gets a sensual, tango-ish version where Vox can shine vocally.
Her album is a fine record.
Track Listing
1 The Shape of You
2 Quiet Nights of Quiet Stars
3 Round Midnight
4 A Little Drop of Poison
5 In the Dark
6 So Sue Me
7 Besame Mucho
8 Vincent (Starry Starry Night)
9 Sympathique
10 Solitude
11 Temptation
12 Dance Me to the End of Love
13 The Very Thought of You
14 Horizontal

[wp_campaign_1]