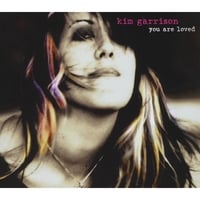 Album Name: You Are Loved
Artist: Kim Garrison
Year/Label: 2009 / Red Dents Records
Review by Anna Maria Stjärnell
Kim Garrison has a voice of a kind that few possess; it's supple and yet beautifully fierce. Her debut album has songs to match and some choice covers.
Opener Treasure sees her flex and bend her vocal chords, to a stripped-down backing. The song movingly describes love.
Beware of Water is minimal and expressive, Garrison recalling Tanya Donnelly's lovely voice. She sings warningly of a siren hidden in the water.
"Give My Love Away" is slow and undulating, Garrison serenading the possibility of love. Her guitar playing is inspired and expressive here.
The closing cover of Chris Bell's I Am the Cosmos (once memorably covered by This Mortal Coil also) and the hidden bonus song, Jeff Buckley's The Sky is a Landfill are done justice. Garrison really is good enough to sing a Jeff Buckley song, and that's no mean feat.
She's an intriguing new voice.
Track Listing
1 Treasure
2 Lost
3 Beware of Water
4 Show Me One
5 Anything Alive6 Decide
7 Give My Love Away
8 Even Leaving
9 I Am the Cosmos
10 The Sky is a Landfill