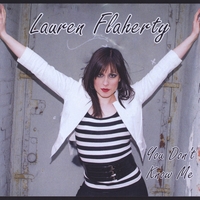 Album Name: You Don't Know Me
Artist: Lauren Flaherty
Year/Label: 2009 / Independent


[Buy at Amazon]
[eMusic]
Review by Anna Maria Stjärnell
I've reviewed a previous record by Lauren Flaherty, since then she seems to have toughened up and it suits her.
Opener Closer Than Close roars with rock'n'roll energy and the vocal soars like a banshee wailing.
Shoes rocks out convincingly and has a catchy chorus. Flaherty's vocals are as cool as ever.
Just Rain is softer, Flaherty proving as good at a ballad as she is at rockin' out. Her silky voice caresses the sad words with real feeling. It could be a radio hit with the right support.
Someone Else is a poppy and very pleasing song, Flaherty singing of a having a hopeful mindset.
The album holds together well and Flaherty seems to have a bright future ahead.
Track Listing
1 Closer Than Close
2 Baby, You Don't Know Me
3 Shoes
4 My Armor
5 Ghost Town
6 Just Rain
7 3 A.M.
8 Wake Up
9 Someone Else
10 The Fantasy Me
[Lauren Flaherty Official Site]