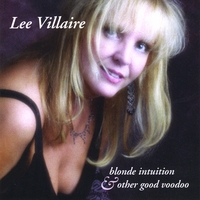 Album Name: Blonde Intuition and Other Good Voodoo
Artist: Lee Villaire
Year/Label: 2008 / Independent


[Buy at Amazon]
Review by Anna Maria Stjärnell
Lee Villaire makes seriously cool music on her new cd. She has a sassy vocal style and some great songs in the folk meets blues genre.
Still love me? is bluesy and has a distinct flavor that's the singer's own.
I Know You is a soft hush of a song that tells the tale of a breakup, Villaire's vocal is sweet and sad.
It's My Fault is a nice song, which sarcastically tells of the occasional sacrifices we make for love. The melody is upbeat and the vocal sassy.
What a Rush surges on, Villaire putting a good lead vocal against the supple backing.
Lee Villaire has made a fine album.
Track Listing
1 Ooh La La
2 Still Love Me?
3 In A Perfect World
4 More
5 I Know You
6 Like October In Vermont
7 It's My Fault
8 Jamie
9 The Good Stuff
10 Reminds Me Of You
11 What A Rush
12 You Get Me
13 You Make Me Proud
[wp_campaign_1]