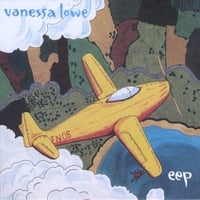 Album Name: Eep
Artist: Vanessa Lowe
Year/Label: 2008 / Independent

Review by Amy Lotsberg Producer of Collected Sounds
I have reviewed Vanessa Lowe's music in the past and I've quite enjoyed it. I've always liked her style in that she writes clever lyrics and fun rhythms. More than I few times I've described her music as dirgy. This release is no exception.
Bug has a cool melody and she plays with the rhythm and does some strange/cool vocalizations.
Happy for You is one that's caught my attention a few times. It has a strange rhythm that you can't help getting drawn to.
Listen Closely makes nice use of the minor keys. Love this melody!
She's kind of like Ani DiFranco at her darkest.
Another great album by a very talented artist.
Track Listing
1 Up Up Above
2 Bubble
3 Bug
4 Vertigo
5 Happy for You
6 Goodbye
7 Dark Room
8 Listen Closely
9 Out in the Longing
10 Drift
11 Black Back
12 Aven
13 Fuel
14 Waterfall
[wp_campaign_1]