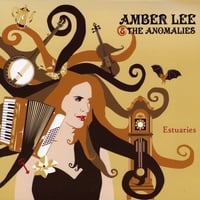 Album Name: Estuaries
Artist: Amber Lee and the Anomalies
Year/Label: 2009 / Baker Belle Records


[Buy at Amazon]
Review by Anna Maria Stjärnell
Amber Lee Baker plays the accordion and crafts unusual music on her debut album.
Opener Time Master has a delightfully upbeat, somewhat gypsy influenced sound. Baker's decidedly not like other artists.
Only the Girls is sweet and folksy, Baker's gorgeous vocals really start to show here. The sound of her accordion is very appealing.
Into Thin Air is sad and strange, Baker singing of love to a memorable tune.
Whaler's Wife is an utterly lovely sea shanty, performed with exquisite restraint and a genuine longing.
The closing Beautiful Decay is suitably Gothic, but in a subtle way. Baker's sense of quirk comes out well here.
She's made an impressive debut and I hope to hear more from her in the future.
Track Listing
1 Time Master
2 Only The Girls
3 Open The Temple
4 The Rodeo Clown
5 Not As The Crow Flies
6 Bump In The Road
7 Into Thin Air
8 Okay
9 Whaler's Wife
10 It's Me
11 Wildwood Flower
12 Beautiful Decay

[Amber Lee and the Anomalies Official Site]