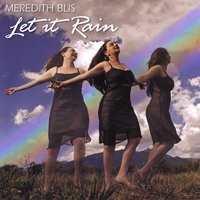 Album Name: Let it Rain
Artist: Meredith Blis
Year/Label: 2008 / Purple Sky Records

Review by Anna Maria Stjärnell
Meredith Blis follows her intriguing debut record with an equally deft new album. She's a stunning singer and her songs resonate.
Fade to Dust reflects on the transient nature of life and name checks Bettie Page and Marilyn. Her piano playing really stands out here.
The Birds and the Bees (sexual assault in the U.S) tackles that precise issue with Blis calmly recanting the amount of people who are assaulted each day during the chorus. Part of her albums proceeds go to RAINN (rape, abuse, incest national network).
Sing a Love Song is softer and engagingly tells of loving oneself to a nice backing. Blis' vocal is just lovely.
Subterranean Lovesick Daughter humorously tackles a feeling of loneliness and is another example of Blis' great singing.
Her new album is just splendid.
Track Listing
1 Roy G Biv (red, orange, yellow, green, blue, indigo, violet)
2 Fade to Dust
3 Let It Rain
4 The Birds & The Bees (sexual assault in the u.s.)
5 Coming Up for Air
6 Sing a Love Song
7 Kismet
8 Subterranean Lovesick Daughter
9 To My Dearest Little Star
10 Hummingbird

[wp_campaign_1]