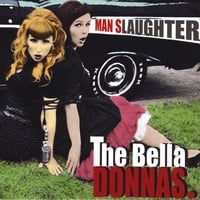 Album Name: Man Slaughter
Artist: The Bella Donnas
Year/Label: 2009 / Independent


[Buy at Amazon]
Review by Anna Maria Stjärnell
The Bella Donnas make hilarious and utterly addictive music on this ep. Myriam Cournoyer and Shannon Perkins and some friends sing about boy trouble with a twist.
Christian Boy is about just that and with a neat twist as the narrator deals with her unsatisfied urges vis-à-vis the boy nicely.
Waste of Time written about a guy both women had dated and found lacking is kinda fun. It's a jazzy and cute song though the words sting.
Gotta be Gay is self-explanatory, a modern update of Josie Cotton's Johnny Are You Queer?.
The Bella Donnas are having fun and could hardly be accused of not having great songs. It's a memorable and engaging debut.
Track Listing
1. Christian Boy
2. No Balls
3. Waste Of Time
4. Gotta Be Gay
5. Hurry Up And Break Up
6. Spying On You