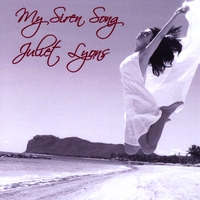 Album Name: My Siren Song
Artist: Juliet Lyons
Year/Label: 2009 / Mystic Voyager Music

Review by Anna Maria Stjärnell
Juliet Lyons records in the New Age genre and she has a fabulous voice as well as head for good songs.
The Quest is suitably dreamy and has a stunning vocal to underpin its transcendent rhythms and lyrics of soul-searching.
The title song succeeds in being a crossover between electronica and New Age, Lyons siren song could lead any sailor astray.
Other Side of the Moon is sweetly played and has atmospherics worthy of an Enya song. Lyons really has the vocal chops for this genre.
Dreaming of the Hajar has atmosphere to spare and an utterly gorgeous Ofra Haza-style vocal.
This album should win Juliet Lyons many fans.
Track Listing
1 My Dreaming Mind
2 The Quest
3 My Siren Song
4 Behind The Future
5 Other Side Of The Moon
6 Voyage
7 Peace Within
8 Dreaming Of The Hajar
9 Steal My Secret
10 My Siren Song-Do You Fear Me Remix