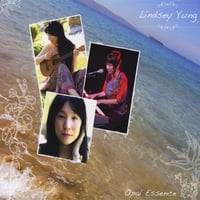 Album Name: Opal Essence
Artist: Lindsey Yung
Year/Label: 2008 / Independent

Review by Amy Lotsberg Producer of Collected Sounds
In the accompanying letter, Lindsey Yung mentioned that she's grown. I'll say!
I reviewed Yung's previous releases, The Return and Fusion. Her first CD was disco; her second one was a bit of a departure, and this is very much more sophisticated.
Away From it All is a great opener. Her voice shines and the marchy melody is addictive.
Authentic Counterfeit is well written and I can imagine it on radio. Wow, her voice is impressive.
She plays piano and ukulele. Yep, ukulele. (Ukulele, Ukulele, Ukulele, Ukulele…that word looks weirder the more I look at it!) Listen to Scent of Summer if you don't believe me.
I really like It Doesn't Get Better Than This. It's cute, and has a nice rhythm.
Good album packed with fun pop songs and an amazingly strong voice.
Track Listing
1. Away from it All
2. With Every Breath
3. Authentic Counterfeit
4. Touchstone
5. Scent of Summer
6. Like Them
7. Providence
8. Rare
9. Should Be
10. It Doesn't Get Better Than This
[wp_campaign_1]