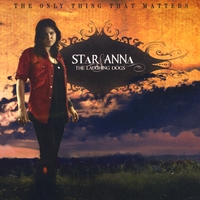 Album Name: The Only Thing That Matters
Artist: Star Anna and the Laughing Dogs
Year/Label: 2009 / Independent


[Buy at Amazon]
Review by Anna Maria Stjärnell
Star Anna and the Laughing Dogs play a country-tinged rock that's very well done.
Opener Sleep My Darling has a nice Cowboy Junkies-like tint to it and a great lead vocal.
Where I Come From surges with longing and has a lovely melody. Star Anna's voice is supple and has a suitable cadence for this song.
Burn is up-tempo and has a strong tune; the band's interplay is well done here. The vocal is strong and with a lot of presence.
Running Man is a cool song, a lengthy dirge with less of country influence than the other ones. The vocal is very expressive and taut.
Star Anna and the Laughing Dogs have made a very good record.
Track Listing
1 Sleep My Darling
2 Through the Winter
3 Hawks on a Pole
4 Where I Come From
5 Spinning My Wheels
6 Burn
7 For Now
8 Restless Water
9 Lonely Ride Home
10 All Her Ghosts
11 Running Man
12 Tripping Wire
[Star Anna and the Laughing Dogs Official Site]