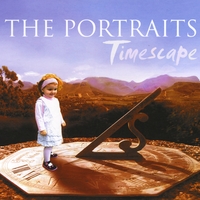 Album Name: Timescape
Artist: The Portraits
Year/Label: 2008 / Sensory Pulse Records


[Buy at Amazon]
Review by Amy Lotsberg Producer of Collected Sounds
The Portraits are husband and wife Lorraine Reilly and Jeremy Millington from the British Isles, but I believe they are currently based in Charentes, France. They're considered folk, but there's something else there that isn't straight up folk. Not pop, not rock, not Americana (certainly!) but there's something else. Maybe a world vibe. Maybe a tad new agey.
I like Real World it's stopped me a couple of times. It's a little Up with People sounding, but damn (whoopsie, I mean gosh golly), I like it anyway! I like the jangly guitar and the melody is infectious.
Shield has some cool haunting backing vocals and strong piano.
I had this in my rotation with others all on shuffle and when Virtual came on I thought was Morrissey until the woman started singing and I saw it was them! I think it's the way he begins with, "It was 1983…" in that cool accent.
They also remind me a tad of Tears for Fears at times.
On my not-favorite song, Fame, they stray into the late 80s – early 90s adult contemporary/jazz realm, which I can live without. It's more the production than the writing. It's got a drum machine (at least it sounds like one) and backing singers singing falsetto. This band is cooler than this song might lead you to believe.
That song aside, this is a fun record. Well written well done.
Track Listing
1. Poppy Song
2. Fame
3. Autumn
4. Bitter
5. Precious red
6. Real World
7. See Through You
8. Sheild
9. Virtual
10. Windfall
[wp_campaign_1]