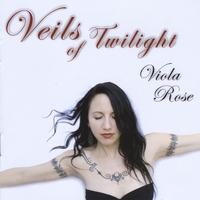 Album Name: Veils of Twilight
Artist: Viola Rose
Year/Label: 2008 / Independent


[Buy at Amazon]
Review by Anna Maria Stjärnell
Viola Rose's music has an exotic slant to it and spiritual lyrics of various faiths, perhaps proving that all forms of worship resemble each other.
Seven Sisters quotes the English mystic Aleister Crowley to a backdrop that reminds me of the late Ofra Haza.
Bismilla uses Sufi and Sanskrit prayers against an appropriate backing, Rose's vocals soar with seemingly little struggle.
Grandfather pays tribute to an elder generation with a thundering opening and a slinky tune.
Hail Mary is a Christian prayer that sounds sweet and honest.
Viola Rose's record is an unusual record in that it takes many influences and works well with them.
Track Listing
1 Seven Sisters
2 Song of the Sea
3 Bismilla
4 Light My Way
5 One Kiss
6 A Million Suns
7 Grandfathe
r8 Thy Will
9 Freefalling
10 Hail Mary
11 Drowning to Dream
[wp_campaign_1]