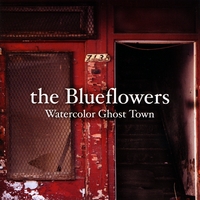 Album Name: Watercolor Ghost Town
Artist: The Blueflowers
Year/Label: 2009 / Analog Terror Music
Review by Anna Maria Stjärnell
Blueflowers were born from the remains of Ether Aura who were a fine band. Singer Kate Hinote and guitarist Tony Hamera carry on making fine music here. They have a neat alt/country slant to the opening title song. Hinote's vocals dreamily sigh in a Hope Sandoval fashion to a great tune.
I Can't Stop My Heart From Breaking is ripe for a soundtrack to a David Lynch film. It's dreamy and filled with tangible longing. The spooky mood is very well accomplished.
Just for Show is a bit more up-tempo and happily echoes the sixties pop era. Hinote's vocals sound good here too.
You're Not the Only One is a spaghetti western soundtrack well played by the band. The Julee Cruise-esque lead vocal is just dandy too.
This band is just as good as Ether Aura were, though with a different sound. It's a masterful debut.
Track Listing
1 Watercolor Ghost Town
2 A Reason
3 I Can't Stop My Heart From Breaking
4 Any Three Words
5 The Weight
6 Just for Show
7 Float
8 I Wasn't Her
9 You're Not the Only One
10 The Strangled Song
11 Helpless and Hopeless