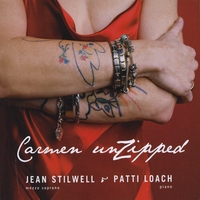 Album Name: Carmen Unzipped
Artist: Jean Stilwell and Patti Loach
Year/Label: 2009 / Independent


[Buy at Amazon]
Review by Anna Maria Stjärnell
Mezzo soprano Jean Stilwell has played Carmen, and here she gives us a different Carmen, as she would appear in our century maybe.
Pianist Patti Loach follows her lead expertly on these songs. The repertoire goes from Kurt Weill to Johnny Mercer, and has a dash of the "Habanera" at the end.
As on Loach's album with Patricia Zentilli a stab is made at the droll "Taylor the latte boy". Stilwell just as easily inhabits John Bucchino's songs and Loach is right behind her.
The duo's version of Carmen is both moving and amusing. The expected opera diva mores are lovingly unzipped and perfected for these times here.
Track Listing
1 Sepia Life
2 In a Restaurant By the Sea
3 If I Ever Say I'm Over You
4 This Moment5 Temporary
6 Taylor the Latte Boy
7 How I Love You
8 Apathetic Man
9 I'll Never Go There Anymore
10 I Was Telling Him About You
11 I Had Myself a True Love
12 Last Night When We Were Young
13 Falling in Love Again
14 I'm a Stranger Here Myself
15 Habanera
[Carmen Unzipped Official Site]
[wp_campaign_1]