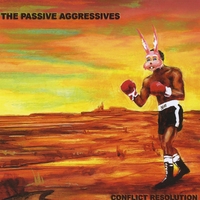 Album Name: Conflict Resolution
Artist: The Passive Aggressives
Year/Label: 2008 / Independent

Review by Amy Lotsberg Producer of Collected Sounds
The Passive Agressives are a brave band. They (or someone) sent me their self-titled EP back in 2006. [I wrote a review] and I didn't really care for it. In fact I said it was "messy". But then sent me their next release anyway! Maybe they knew this one was much better than the EP. It really is. I like it!
Their style is rock, but there is a playful aspect that is missing from "serious rock" (and perhaps that's why I don't really care for that genre).
The songs are well written and differ from each other enough, which is not as common as you may think.
Some songs I picked out: On Slice it Away, Keren Gaiser's voice reminds me of Harriet Wheeler from the Sundays. A good thing in deed. They do a fun cover of Happy Together and Violeta is also really nice. It shows off her voice nicely.
It's a good album, I'm glad I got an opportunity to give this band another listen.
Track Listing
1 All We've Got Is Now
2 Soundtrack To The Voices In My Head
3 Violeta
4 Conflict Resolution
5 Happy Together
6 World of Compromise
7 Slice It Away
8 Just Believe
9 Don't Want To Be You
10 One More Look
11 Lulla-Bye Nation
12 Perfect
13 Not Perfect
14 Evil Cloud Song
15 Let's Begin
[The Passive Aggressives Official Site]
[wp_campaign_1]