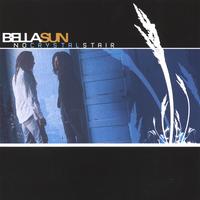 Album Name: No Crystal Stair
Artist: Bella Sun
Year/Label: 2005 / Independent

Review by Amy Lotsberg Producer of Collected Sounds
Gosh I don't even know how to describe this music. Is it rock? Is it funk? Jazz? Blues? Pop? I dunno. I guess it's a little of each. Which is good.
Memphis based, husband and wife, Mike and Val Joyner make up Bella Sun. Val sings, Mike plays guitar and they both write the music.
Val's voice is quite funky. It has a solid clear strong emotional quality that fits the music very nicely. Mike is a skilled guitarist.
The songwriting is somewhere in the classic-rock classic folk vibe. Nice melodies, catchy and timeless.
This is a fine recording from a talented duo.
Note: a word on packaging. I'm not saying if you order this CD it will come like this, but my copy came in a folder that was made out of handmade paper and sewn together. Very cool.
Posted on February 21, 2005
Track Listing
1. Can't Tell No Lies
2. Darkness
3. Shakin
4. Days Go By
5. What You Think
6. Rhythm and Blues
7. Passing
8. Candles Burning
9. People
10. Wake Up
[wp_campaign_1]