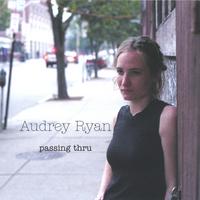 Album Name: Passing Thru
Artist: Audrey Ryan
Year/Label: 2005 / Independent

Review by Amy Lotsberg Producer of Collected Sounds
Audrey Ryan has been compared to Joni Mitchell and I would have to agree, especially on the title track, "Passing Thru". She has that lilting swoopy thing happening much like Ms Mitchell does. But she also reminds me of a newer (younger, less known) artist, Nedelle.
The music, I would classify, as jazzy pop. It has a carefree, uplifting sound. Ryan's voice is simple yet skillful. The melodies have some very unexpected notes (as well as rhythms) and she hits 'em every time…not an easy task.
The focused too, there's a track that clocks in at over 11 minutes!
The songs are generally short stories, which is my personal favorite type of songwriting. I feel like I'm watching a series of little movies. She also takes a stab at a little political commentary on "Run".
This is a perfect lazy Sunday afternoon CD.
Favorites: "Passing Thru", "Watch" and "Talk" but if I sat here and listened again I'm sure I'd end up adding all of these songs to the list eventually. This is a great recording.
Posted on February 21, 2005
Track Listing
1. Passing Thru
2. Nostalgia
3. Watch
4. Slick Chick, Sly Fly
5. Nothing Left
6. Run
7. Alien Nation
8. Talk
9. Espresso Bean
10. Say Can You
11. Red War
12. Summer
13. Audrey's Head
[wp_campaign_1]
Comments:
Rating: 5 Stars
Comment: Fantastic tunes!! There is a refreshing sweetness to Ryan's music. She has the versatility to go from bosa nova to driving rock. Highly recommended to follow this chix music at it evolves!!
name: Wendy Baker on Friday, November 18, 2005