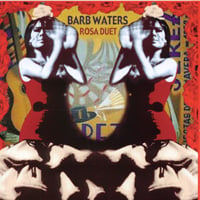 Album Name: Rosa Duet
Artist: Barb Waters
Year/Label: 2005 / Independent

Review by Anna Maria Stjärnell
Barb Waters has recorded a lovely duet album in the country vein. She's joined by known and relatively obscure artists and the results are stunning. "Vacancy Signs" is a classic Gram'n'Emmylou-like moment with Dan Warner. The down-home sadness is palpable.
"Make it Count" features the gravelly voice of Kim Salmon (of the Surrealists) and it meshes well with Waters lovely singing.
"Wipe Away my Tears" uses Lisa Miller and Rebecca Barnard's spine-tingling singing. It's soothing quality is so strong because the three voices seem as right as rain together.
"Jessie(Me and you)" with Anna Barley is feisty and sympathetic. Waters and Barley sound great.
Barb Waters cd is a sheer delight.
Posted on February 21, 2005
Track Listing
Listen to track samples
1. Thinking A Lot About You
2. Vacancy Signs
3. Make It Count
4. Wipe Away My Tears
5. When Will You Come My Way
6. I Won't See You Again (Hours & Distance)
7. Jessie (Me And You)
8. Split You Open
9. Further Down The Line
10. Make Some Decision
[wp_campaign_1]